Guatemala Missions Team
January 1st - April 15th, 2018
$100
Join us for a missions opportunity to Guatemala June 19th- June 26th. Cost is $1600 and only 20 seats are available. A $100 non-refundable deposit is due upon sign up and the spots are first come, first serve. See Pastor Mike to signup or for questions (mike@springharvest.net).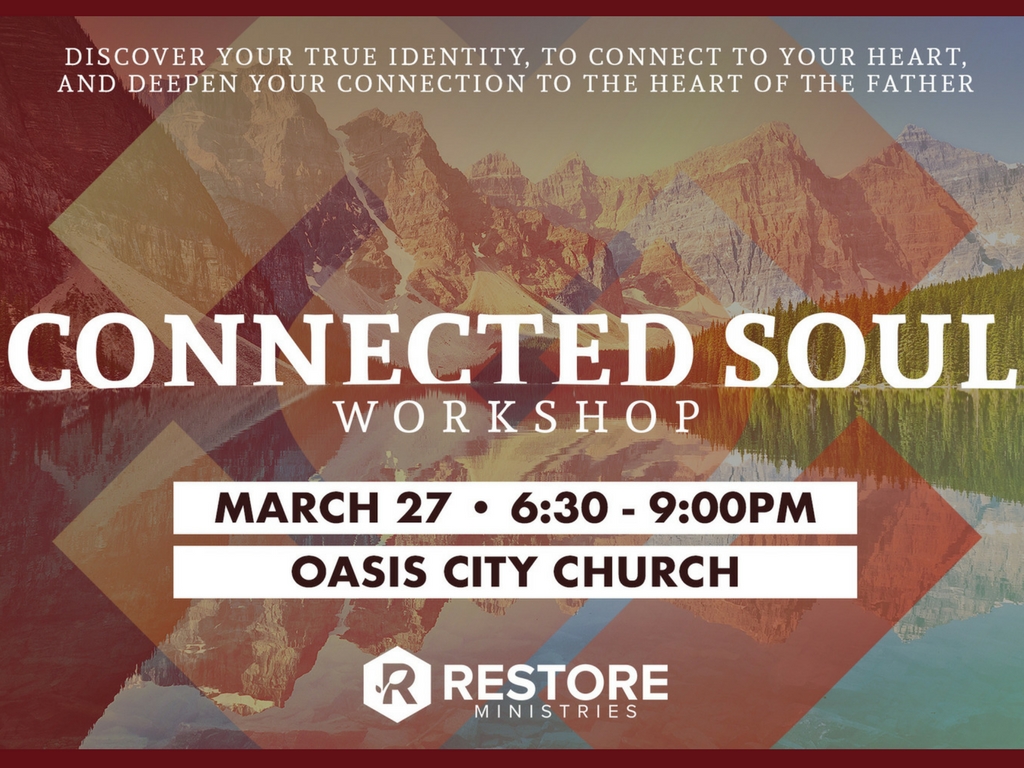 Connected Soul Workshop
March 27th, 2018
$25
Are you living fully alive? Do you feel plugged-in and in the driver's seat of life? Are you intimately connected to your heart and the heart of the Father? You were created to be all of those things and more, and the key to the abundant life is to live through a heart that is fully alive!
Your heart (soul) is the most significant part of who you are as a person. It is where you hold your dreams and desires; it drives your emotions and behaviors, and it is the place the enemy attacks you in an effort to destroy your destiny. In this workshop, you will learn how to discover your true identity, to connect to your heart, and deepen your connection to the heart of the Father.
The Connected Soul Workshop is for you if you suffer from any of the following: brokenness, abandonment, grief, powerlessness, hiddenness, shame, embarrassment, disappointment, jealousy, comparison, inferiority, doubt, fear, depression, anxiety, low self-work, self-hatred, doubt, nervousness, trauma, lack of motivation, mental numbness, drifting through life, disconnection, self-protection, self-promotion, performance anxiety, orphan spirit, loneliness, or a performance mentality.
The workshop is a set of teachings and exercises that don't require any sharing or public speaking from participants. You won't be put on the spot for anything and all exercises in the class will be as individuals.
Side effects of this workshop may include: Joy, peace, love, self-esteem, loving yourself and others, falling in love with God, destiny, identity, acceptance, contentment, power, trust, optimism, hope, courage, respect, creativity, curiosity, freedom, and a host of other positive emotions.
Location: Oasis City Church [975 Eastwind Dr, Westerville, OH 43081]
Note: No childcare will be available.
OCTC - Kingdom 101 -"Understanding the King, His Kingdom and our position in it"
April 3rd - May 22nd, 2018
$25
THIS CURRICULUM HAS BEEN EXPANDED. IF YOU TOOK THIS COURSE LAST YEAR, YOU CAN TAKE IT AGAIN AS THE CONTENT IS UPDATED, BUT THERE WILL BE NO WORKBOOK.
Jesus announced his ministry by declaring that the Kingdom of Heaven was here. He then instructed His disciples to seek first the Kingdom of Heaven, and that it was the Father's good pleasure to give them His Kingdom. Jesus talked a lot about the Kingdom.
This class will introduce Kingdom concepts and foundational principles that will turn your world on its head. Learn why you were created and what God's will is for your life, for your family, for your city, and for your nation. Learn the Bible from a Kingdom perspective in a way that you can apply to your daily life. Learn how to change the spiritual atmosphere around you, how to think like Jesus thinks, and how to bring heaven to earth. INSTRUCTORS: PASTOR TOM HUTH/JEN PATTON
NOTE: NO CHILDCARE IS AVAILABLE FOR THIS CLASS.
OCTC - S.H.A.P.E. - "Finding and Fulfilling Your Unique Purpose for Life"
April 4th - May 23rd, 2018
$0 - $25
Have you discovered the unique purpose God has for your life? By design, you were created with particular gifts and talents to fulfill the calling that God has for your life. This 8 week class will help you discover how your individual gifts, passions, experiences and temperament, work together to make you who you are and to unlock your God-given potential, uncover your specific kingdom purpose and unfold a kingdom plan for your life. INSTRUCTOR: PASTOR LYNNE THEMELARAS
NOTE: CHILDCARE (3 MOS. - KINDERGARTEN) IS AVAILABLE, BUT YOU MUST REGISTER EACH CHILD SEPARATELY.
COST OF CLASS INCLUDES WORKBOOK
OCTC Kids - W.O.W. (Weapons of Warfare) Class
April 4th - May 23rd, 2018
We're so excited to bring you W.O.W. (Weapons of Warfare) OCTC Kids Class: Packing a Punch With Joy!
In this class students will learn that they are victoriously free to live a life of joy and how to allow joy to be their strength in every day life.
This class is for students in 1st-5th grades. It's free, but registration is required.
Pure Beauty Conference
April 7th, 2018
$39.99 - $49.99
Teen girls are fighting a battle to see themselves as God sees them, to believe they are beautiful and created with purpose. Pure Beauty is a day of fun for teen girls to inspire truth to become confident in who God has created them to be because - CONFIDENT GIRLS CHANGE THE WORLD!
This event will be held at the Medallion Golf Club in Westerville, Ohio.
Pure Beauty Registration includes lunch. Pure Beauty + includes lunch & a gift box with the newest issue & a gift. Register online.
For more information, contact Pam Lozano.
Daughters of the King Women's Conference
May 5th, 2018
$25
Come enjoy a day of shopping, food, fellowship, games, photos, surprises, powerful worship, and encouraging words. When you leave this event we believe you will be empowered to walk out your life as a Daughter of the King. So please join us for laughter, friendship, and hope!
T-shirts are available for $15 if ordered by April 2nd.
Men's Gameday Conference
June 1st - June 2nd, 2018
$70 - $90
Gameday is a men's conference held each year creating an atmosphere for men to encounter Jesus. The goal of Gameday is to encourage, equip, and empower men to embrace all God has for them. The sessions will be packed with some challenging messages from our guest speaker, Neil Kennedy. You do not want to miss this event!
We will have around 13 different tournaments to participate in; which will include everything from 3 on 3 basketball, corn hole, shooting, video games, paintball, and even our very own Gameday Mudder Run obstacle course, just to name a few! In addition, we will have activities for those who may not want to participate in the tournaments; including a motorcycle ride, zip line, ropes course, volleyball, and board games. We will also have side contests with prizes for those that may be eliminated from their tournament earlier than others. It is going to be our best yet!
This event will be held at the Heartland Conference Retreat Center.
For more information, contact Pastor Mike Silich.
Family Fishing Adventure
June 9th, 2018
$5 - $10
Join us for a family fishing adventure on Lake Erie! We'll fish for perch, walleye & possibly more.
The bus will leave the church at 4a and return about 5p. We'll fish from 7a-2p aboard a chartered 42-foot boat.
Cost includes transportation, all necessary fishing gear/supplies, and lunch after fishing. Please bring food for breakfast and a snack for on the boat.
Contact Angie Turner for more information.
Kids Summer Camp [2nd - 5th Grade]
July 23rd - July 27th, 2018
$285
Students in grades 2nd-5th will love adventuring in the creek, hanging out with friends both old and new, splashing in the pool, and growing in their faith through engaging evening services. This is a week you won't want your kiddos to miss!
Register online using the group code OCCAMP2018.
For more information, contact Tania Stentz.